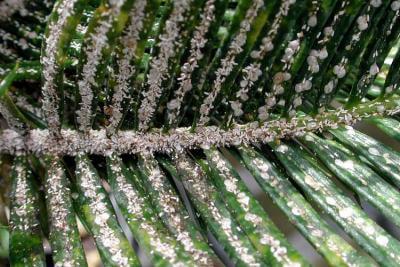 Aulacaspis yasumatsui
Takagi
August 2012
NOTE: this pest is not known to spread in or on firewood. It is included in the Gallery of Pests for general information purposes only.
In 2003, officials noticed that cycads planted near hotels on Guam had begun to die.  The cause was found to be an Asian cycad scale native to Thailand and southern China.  During the 1990s, it was introduced accidentally to an area in southern Florida known for the production and exportation of Cycas revoluta, a plant widely used in ornamental horticulture.  By 1998, the scale had reached Hawai`i; then Guam in 2003.  As had been,[1] cycad scale has since spread to Rota (in 2007) and Palau (in 2008). [2]
The scale's spread is thought to be via trade in horticultural plants. [3] Spread is more difficult to contain by standard phytosanitary measures – visual inspection – because the scale is tiny and hides deep at the base of the plant's stiff leaves and other crevices. [4] Since scales persist even beneath the leaf bases (trichomes), the only way to prevent spread to new territory is to deny importation of any susceptible cycad species.[5]
By 2005 the scale was found in Guam's forest habitat on the native cycad species, Cycas micronesica.   C. micronesica, called "fadang" in the Chamorro language spoken on Guam, is found in the Mariana and Western Carolina island groups in Micronesia – Palau, Yap, Guam, and Rota.  It was the dominant forest tree on the island of Guam until arrival of the scale.  Within four years, the millions of C. micronesica on Guam were reduced by more than 90%.[6]  Other invasive species – the cycad blue butterfly (Chilades pandava), a tiny moth (Erechthias sp.), and feral pigs – are contributing to plant mortality. [7] The last time cycads on the island reproduced in any significant number was 2004.[8]  Scientists at the Western Pacific Tropical Research Center (WPTRC) predict extirpation of C. micronesica from Guam habitats by 2019 – primarily due to impact of the scale.[9]
Dr. Thomas Marler of the University of Guam has studied the fadang for years.  He has documented the first interaction known between a cycad and a moth or butterfly pollinator. [10]
The International Union for Conservation of Nature & Natural Resources listed C. micronesica as endangered in 2006.[11]
A lady beetle (Rhyzobius lophanthae) that had provided some control of the scale on Hawai`i was introduced on Guam in early 2005.  The beetle established quickly and initially appeared effective at controlling the scale.  However, in late 2008 scale populations irrupted again on Guam, and in 2010 on nearby Rota.  Scientists determined that the scale is so small that it can hide on that plant where it is not accessible to the beetle.  Whenever beetles migrate away or die, scale numbers rapidly build up again.[12]
The Guam team plans to introduce a second biological control organism targeting the scale.  They will focus on finding parasitoids that are small enough to follow the scale into its tiny hiding places, according to Aubrey Moore of the WPTRC.[13]
USFS scientists and managers developed a conservation priority-setting framework for forest tree species at risk from pest & pathogens and other threats. The Project CAPTURE (Conservation Assessment and Prioritization of Forest Trees Under Risk of Extirpation) uses FIA data and expert opinion to group tree species under threat by non-native pests into vulnerability classes and specify appropriate management and conservation strategies. The scientists prioritized 419 tree species native to the North American continent. The analysis identified 15 taxonomic groups requiring the most immediate conservation intervention because of the tree species' exposure to an extrinsic threat, their sensitivity to the threat, and their ability to adapt to it. Each of these 15 most vulnerable species, and several additional species, should be the focus of both a comprehensive gene conservation program and a genetic resistance screening and development effort. Cycad aulacaspis scale is not known to be a threat to any of these 15 most vulnerable species.