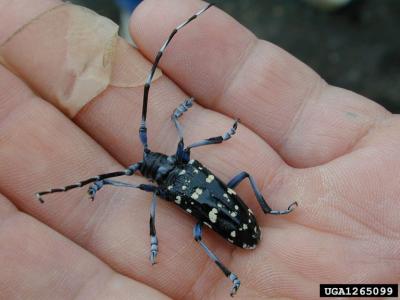 Anoplophora chinensis
Forster
August 2004
This relative of the Asian longhorned beetle attacks and kills a wide range of hardwood species, including maple (Acer), oak (Quercus), willow (Salix), and poplar (Populus) in addition to apple (Malus) and citrus trees (Citrus). The larvae are very large, around 5 cm (2 inches) in length, and bore numerous tunnels in the trunk that sever internal transport and can eventually kill the tree, in addition to making it susceptible to wind breakage.
The insect was intercepted in Chinese shipments of bonsai plants to Georgia in 1999 (Thomas, 1999). The first infestation of citrus longhorned beetles was discovered in 2001 on quarantined, imported maple trees in a plant nursery in Tukwila, Washington (Anonymous, 2002). Examination of the damage raised suspicions that up to five beetles had escaped. Correspondingly, the Washington State Department of Agriculture imposed a quarantine of properties within one-half mile of the point of introduction. During the summer of 2001, APHIS and the Washington State Department of Agriculture cut and chipped 1,000 trees in hopes of eradicating this dangerous pest (USDA APHIS, 2002; J. Lundberg, pers. comm., 2004). The risk rating for this beetle is very high, and professionals believe that if it becomes established, the impact of this insect could be greater than the more widely known Asian longhorned beetle.
USFS scientists and managers developed a conservation priority-setting framework for forest tree species at risk from pest & pathogens and other threats. The Project CAPTURE (Conservation Assessment and Prioritization of Forest Trees Under Risk of Extirpation) uses FIA data and expert opinion to group tree species under threat by non-native pests into vulnerability classes and specify appropriate management and conservation strategies. The scientists prioritized 419 tree species native to the North American continent. The analysis identified 15 taxonomic groups requiring the most immediate conservation intervention because of the tree species' exposure to an extrinsic threat, their sensitivity to the threat, and their ability to adapt to it. Each of these 15 most vulnerable species, and several additional species, should be the focus of both a comprehensive gene conservation program and a genetic resistance screening and development effort.  The citrus longhorned beetle is not known to be a threat to any of these 15 most vulnerable species. 
For more information, visit: USFS Pacific Northwester Region Success Story – Citrus Longhorned Beetle
Sources
Anonymous, 2002. Citrus longhorned beetle eradication project. Washington's Tree Slayer (PDF has been removed since initial citation).
Lundberg, John. June 2004. Washington State Department of Agriculture, P.O. Box 42560, Olympia, WA 98504-2560, personal communication.
Potter, K.M., Escanferla, M.E., Jetton, R.M., Man, G., Crane, B.S., Prioritizing the conservation needs of US tree spp: Evaluating vulnerability to forest insect and disease threats, Global Ecology and Conservation (2019), doi: https://doi.org/10.1016/
Thomas, M. 1999. Pest Alert: Citrus longhorned beetle. http://www.doacs.state.fl.us/pi/enpp/ento/clbalert.htm, accessed July 2004.
United States Department of Agriculture, Animal Plant Health Inspection Service. 2002. Citrus longhorned beetle program. King County, Washington. Environmental Assessment. April, 2002. USDA, APHIS, 12 pp.